The park for your Brand
MagicLand is the perfect location for brands aiming at becoming key players in the young and families world. Sampling, live views and dedicated events are possible in the Park. It is also possible to sponsor some of the most important attractions or one of the several locations of the Park, for instance, the theaters. Moreover, theme entertainment areas are possible, customizable and dedicated to your brand. Exclusive agreements, finally, are possible for some products, sold in the Park or available at restaurants or bars, such as, for instance, in the food & beverage sector.
Location
In the Park there are many theaters, where shows take place, every day, with encore performances at scheduled times, which guarantees presence of an interested audience well-posed towards the brand aiming at sponsoring the location or willing to present advertising activities. Title sponsoring for each theater is possible.
Seats
Indoor
Theater
Customization of the Foyer
Customization of the Sottopalco
Stage Dimensions
Gran Teatro
796
Yes
Yes
Yes
31,10 x 15,78
Piccolo Teatro
200
Yes
Yes
Yes
6,15 x 12,50
Planetario
236
Yes
Yes
No
Palabaleno
1130
Yes
No
Yes
19,00 x 35,00
Baia
600 + 20
No
No
No
Gran teatro
The Gran Teatro, the stage for big shows, has 796 comfortable seats, a large foyer and a highly emotional impact facade.

Up to 7 shows are held in the theater every day for around 4,500 people per day. The shows range from Variety, Music, and Theater shows.
Piccolo teatro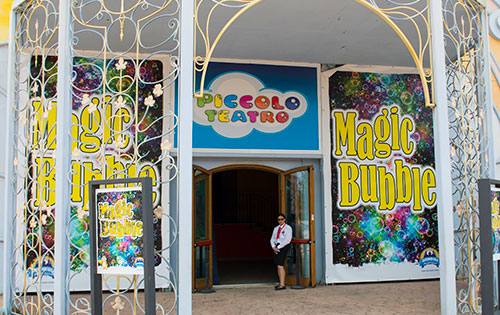 The Piccolo Teatro, a stage for children's shows, has about 250 seats, a nice foyer between the entrance and the hall and a facade of great appeal for the little ones. Up to 5 shows are held in the theater every day for around 2,000 people.
Planetario
| | |
| --- | --- |
| | The Planetarium hosts 4D shows with different subjects: from the view of space to the journey of a spaceship. The 236 seats are almost always sold out for 10 shows a day, with a daily turnout of about 2300 spectators who experience the magical experience of the 4D effect. The location also has a large foyer that can be set up for promotional and advertising activities. |
Palabaleno
| | |
| --- | --- |
| | PalaBaleno is the location intended for the Park's great shows and special events. The size of the theater adapts to the shows and is configured between 600 and 1,130 seats. |
La baia
| | |
| --- | --- |
| | La Baia is the open-air theater of the Park and has 600 seats. |
Ristaurants
The 4 themed restaurants of the Park not only satisfy the palate of the guests but also give the sensation of being in a magical place. The Castello with its medieval setting, the Boccon Divino fast food, the Belvedere pizzeria with a splendid view of the lake, the Domus Aurea self-service restaurant with traditional Italian cuisine.
| | Seats | Indoor | Outdoor |
| --- | --- | --- | --- |
| Self Service Il Castello | 380 | 200 | 180 |
| Fast Food Boccon Divino | 420 | 300 | 120 |
| Pizzeria Bel Vedere | 300 | 230 | 70 |
| Self Service la Domus Aurea | 400 | 250 | 150 |