Partner with MagicLand for Your Brand
MagicLand provides the perfect setting for brands seeking to become leading players in the world of families and young people. The park offers opportunities for product sampling, live demonstrations, and dedicated events. Brands can also sponsor some of the Park's most popular attractions or locations, such as theaters. In addition, we can create custom theme areas dedicated to your brand. We also offer exclusive agreements for certain products sold within the Park or available at restaurants and bars, particularly in the food and beverage industry.
Locations
In the Park numerous theaters host daily shows with encore performances scheduled at specific times, ensuring an engaged audience that is receptive to brand sponsorship or advertising opportunities. Additionally, each theater is available for titile sponsorship.
The Gran Teatro
| | |
| --- | --- |
| | The Gran Teatro boasts 796 plush seats, a spacious foyer, and a strikingly emotive facade, serving as the quintessential stage for grandiose performances. The repertoire is diverse, including a wide array of Variety, Music, and Theater shows. |
The Music Hall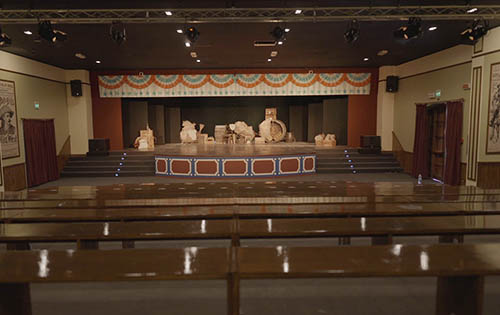 . The Music Hall, featuring an alluring western facade, houses approximately 250 seats, creating an intimate atmosphere for its patrons.
The Planetario
| | |
| --- | --- |
| | The Planetarium showcases an immersive 4D experience, offering captivating shows ranging from awe-inspiring views of space to riveting spaceship journeys. The 236 seats venue consistently sells out, drawing in an engaged audience. Additionally, the expansive foyer provides ample space for promotional and advertising activities. |
The Palabaleno
| | |
| --- | --- |
| | PalaBaleno serves as the premier venue for the park's grandiose shows and special events, with its size adjusting to suit each performance, accommodating between 600 and 1.130 seats. |
The baia
| | |
| --- | --- |
| | La Baia, the open-air theater of the park, offers an enchanting setting with its 600 seats. |
Restaurants
The park's 3 themed restaurants not only cater to the guest's taste buds but also transport them to a magical realm. The medieval ambience of Castello, the quick and delicious bites of Boccon Divino and the picturesque lakeside view of Belvedere pizzeria offer an unforgettable dining experience.
| | Seats | Indoor | Outdoor |
| --- | --- | --- | --- |
| Il Castello Self Service | 380 | 200 | 180 |
| Boccon Divino Fast Food | 420 | 300 | 120 |
| Bel Vedere Pizzeria | 300 | 230 | 70 |