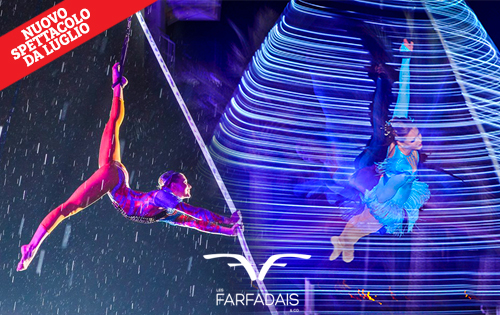 LES FARFADAIS - CELESTIAL ODYSSEY
Exclusively for MagicLand, the Les Farfadais performances, "the creators of the unreal" as they like to define themselves. One of the most appreciated companies in the world with over 4,000 shows performed, a team of former gymnasts, circus performers, and Olympic athletes, who have grown to 70 performers, who perform in dozens of tours on all five continents. With a history of more than twenty years, born in 1998 on the streets of Paris, the brothers Alexandre and Stéphane, versatile artists with Italian origins who have made their differences a creative resource, are ready to offer you two different shows per day, starting in July.
CELESTIAL ODYSSEY
"The adventure is beginning...Alternative worlds are revealed...Life appears with new forms...Are we ready to experience these new experiences?" Les Farfadais take you on a fantastic journey into infinite space. Exploring new worlds has always been one of mankind's most ambitious goals. Imagining what creatures could inhabit planets millions of light years away from Earth has always stimulated both scientists and artists. Les Farfadais' version of interstellar travel is made up of innovative and breathtaking acrobatics, video projections that immerse the audience in unexplored worlds, bizarre and giant creatures, evocative music.
A show exclusively for MagicLand, between adventure and science fiction.
3 PM
Gran Teatro Alberto Sordi
For all