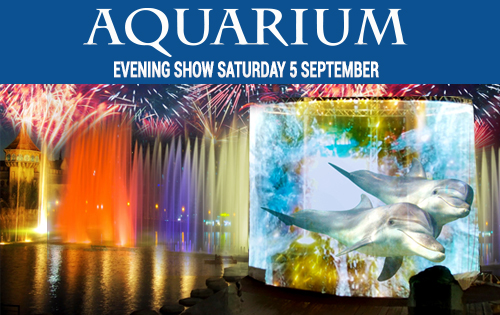 AQUARIUM - A DISCOVERY JOURNEY INTO THE AQUATIC WORLD
A discovery journey into the aquatic world, using the most advanced holographic technologies to transfer the audience in a magical atmosphere.
The nymph Dafne, who inhabits the depths of the lake, will be the main character in this journey.
Every day, at the same time, the nymph-guardian of the lake of MagicLand emerges from the water to evoke all the animals living in the depths of the lake.
Dancing fountains and breathtaking music will fill the whole place with magic and enchantment.
An 8-meter holographic aquarium houses marine creatures and all their beauty.
Sharks, dolphins, whales and a thousand other species will show in harmony in a triumph of emotions for both young and grown-ups.
All while respecting social distancing...

RESERVATION IS NECESSARY TO ATTEND THE SHOW.
CONTACT CUSTOMER SERVICE INSIDE THE PARK
SHOW TIMES
20:30 - 21:30


20 minutes
La Baia / 5 september
For all